Performances
The conference committee invites special guests to the conference to present evening performances for conference attendees. These performances include appearances by musicians, actors, poets, magicians, filmmakers, and other artists.
The committee and organizers welcome suggestions from conference participants for future performances. We seek these suggestions post-conference through the submission deadline for the following year.
Friday, October 20, 2023
6:30 – 8:30 PM, Wisconsin Ballroom
Kunnakudi Balamurali Krishna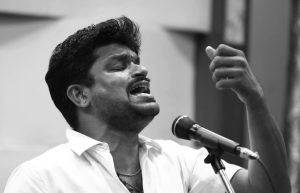 Born in the year 1985, Kunnakudi M. Balamurali Krishna (formerly Master M. Balamurali Krishna) has been one of the rising young vocalists. Music is in his blood. His father, Sri Meenakshi Sundaram, also his first guru, is a musician and an eminent teacher. He also had training under Sri Neyveli Santhanagopalan and Sri V.Sundaresan. He is now under the tutelage of Padma Bhushan Sri P.S.Narayanaswami for the past 14 years. He has enthralled audiences all over India and countries like the USA, Australia, Singapore, Dubai, Bahrain and Sri Lanka.
Awards and accolades have followed Balamurali at the right intervals in order to create in him the urge to go further in his musical journey. Being called a child prodigy at a very tender age, Asthana Vidwan title from Sri Kanchi Mutt, Yuvakala Bharathi, Yuvakala Jyothi, Young Star of the year 2008, Gantasala award -2008 etc. are few of the names conferred upon the young Master. He is currently under the Sangeeth Nataka Academy's Scholarship Scheme after receiving the 'Advanced Training Scholarship' from the Dept. of Culture, Govt. of India.
Balamurali is an accomplished Mridangist. After training from Nagai Sri Bashyam, he is currently under Guru Kaaraikudi Mani. This rare feature helps him appreciate the intricacies of rhythm from a young age. His Music is totally personal and innovative yet, within the strict parameters of tradition. Balamurali's music is of a different cadence, rarely found in musicians of his age. His Alapanas are galvanizing efforts, totally personal. His deep involvement in Kriti-rendering and natural flair for laya has made his music enjoyable. His style and content go hand in hand to make him an artiste yearning for the ineffable in Carnatic Music. He is currently pursuing Masters in Music after completing Post-Graduation in Commerce.
Trichy Sankaran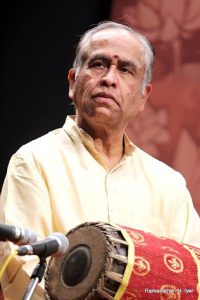 Professor Trichy Sankaran is a world-renowned percussion virtuoso, Indian music scholar and composer, and the founding director of Indian music studies at York University. Over the years, Prof. Sankaran has bridged eastern and western pedagogical styles and has influenced generations of students who have become noted performers, composers, and music educators themselves. He has made valuable contributions to many scholarly conferences across North America and has published two major books: one on the theory and techniques of South Indian classical drumming, and the other on the Art of Konnakkol (Solkattu).
Trichy Sankaran has performed at major festivals in India, South-East Asia, Europe, Australia and North America. In his 6 decades of concert experience in Carnatic music, he has accompanied all top rank artists of India. He has performed in jugalbandhis (North-South combo) with famous Hindusthani musicians.
In addition to his usual traditional settings and numerous solo recitals, he has performed with Nexus, gamelan, jazz, electronic, African music ensembles and world drums, as well as his own group, Trichy's Trio. 

As a composer, Trichy Sankaran has to his credit a number of pieces in the genres of gamelan, jazz, traditional western classical orchestra and world music ensembles. He continues to perform and write compositions for contemporary and world music ensembles. He has received numerous honours and awards for his contributions to University teaching and artistic excellence in the professional field.
In January 2012, Dr. Sankaran received the most coveted honour of 'Sangita Kalanidhi' from the prestigious Music Academy of Madras. He is the first recipient of this award in the Pudhukkottai tradition of mrdangam playing. 
Dr. Sankaran was the pioneer in starting the Thyagaraja Festival in Toronto, Canada in 1972.
Professor Sankaran has published numerous articles, as well as two major textbooks: The Rhythmic Principles and Practice of South Indian Drumming and The Art of Konnakkol. 
Kamalakiran Vinjamuri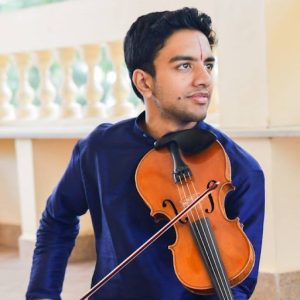 Kamalakiran Vinjamuri grew up in the large South Asian community of Northern Virginia and began his musical journey by learning to play the violin from his grandfather, Parthasarathy Iyengar. Kamalakiran subsequently had training from master Carnatic violinist Malladi Vijayalakshmi, who studied under his own father Subhash Vinjamuri at the age of seven. Kamalakiran has been under the tutelage of Sangeethakalanidhi A. Kanyakumari since 2006 and has quickly emerged as a major talent, winning numerous awards from prestigious institutions including Sri Mylapore Fine Arts, Sri Parthasarathy Swami Sabha in 2010 and 2013, and Sri Krishna Gana Sabha in 2014, just to name a few. In the 2014 Spirit of Youth series, and the 2016 and 2017 music seasons, Kamalakiran was selected as the best violinist in the prestigious Music Academy in Chennai. As both a soloist and accompanist, Kamalakiran has won several accolades and he continues to accompany many leading artists, performing widely across Asia, the US and Europe.