The Annual Conference on South Asia offers limited space for publishing companies, universities, organizations, educational programs and more to rent booths to sell books and merchandise. Booths are sold on a first come, first served basis. The conference organizers keep a waiting list in case of cancellations and will offer that booth space to publishers in order of request. As space is rented, the site will be updated with how many available spaces remain, and prior to the conference, a full map of the exhibit space will be posted for exhibitors and conference attendees.
Purchase an Exhibit Booth Space
---
Sales Space Information
Cost: $500 U-Shaped Booth
Includes:

Two 8 ft. skirted tables (for display)
One cocktail table and chair (for sales)
Sale Hours:
Wednesday, October 19:    2:00 PM – 6:30 PM
Thursday, October 20:       9:00 AM – 6:30 PM*
Friday, October 21:             9:00 AM – 6:30 PM*
Saturday, October 22:        9:00 AM – 6:00 PM
*The Book Exhibit Room will remain open later on both Thursday, October 20 and Friday, October 21 for our Thursday and Friday evening cash-bar receptions. Publishers can expect a large influx of traffic during these extended hours.
Shipments for sales materials:
Do not ship sales materials to arrive at the Concourse Hotel before Monday,
October 17, 2022. All materials shipped on this date or later will be stored by the
Madison Concourse Hotel at no cost. Any materials received before this date may
be misplaced. Ship to the following address:
The Madison Concourse Hotel & Governor's Club
Annual Conference on South Asia: Conference Dates
Exhibitor Company Name & Representative Name
1 West Dayton Street
Madison, WI 53703
Boxes should be numbered (1 of 3, 2 of 3, etc.) and labeled as follows:
"Please hold for South Asia Conference, Oct 18-23, 2022"
---
Below is a diagram of the Madison Ballroom with exhibit spaces available. Exhibitors are subject to change prior to the conference.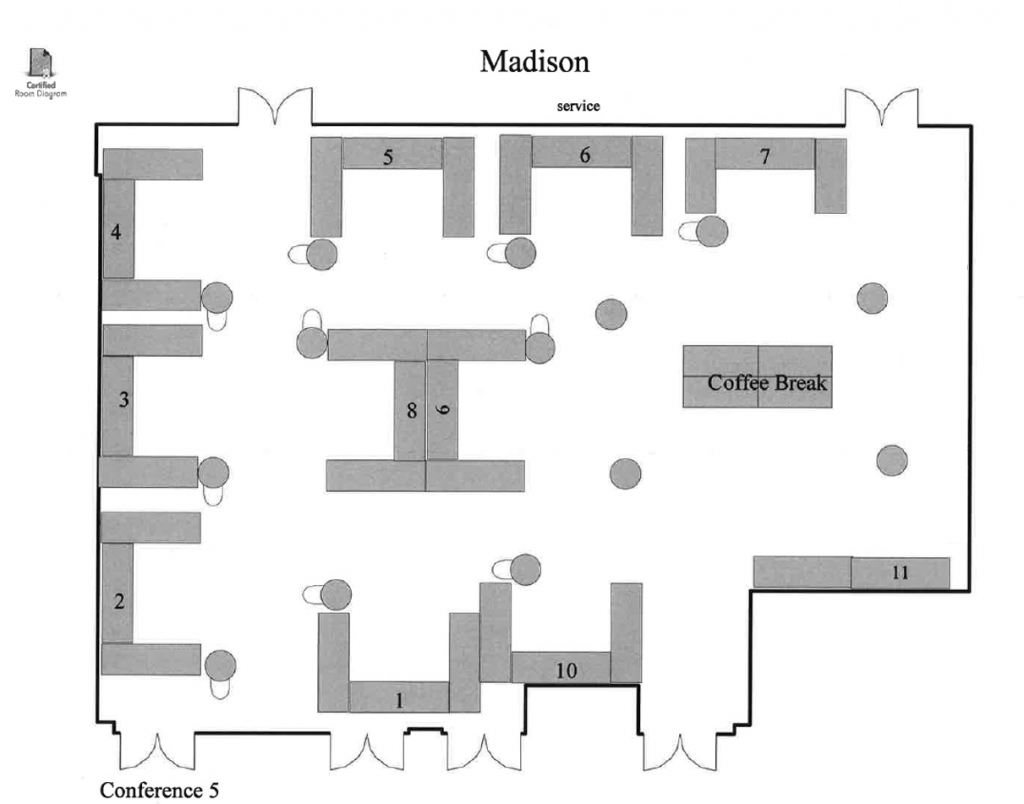 This is an accordion element with a series of buttons that open and close related content panels.
Booth 1 -
Exhibitor:
Representative:
Booth 2 - In Memoriam
Exhibitor:
Representative:
Booth 3 -
Exhibitor: Saverio Spagnolie
Representative:
Booth 4 -
Exhibitor: Oddball Comics
Representative: Nikhil Gulati
Booth 5 -
Exhibitor: Adam Matthew Digital
Representative: Scarlett Rich
Booth 6 -
Publisher: University of Washington Press
Representative: David Schlangen
Booth 7 -
Exhibitor: Alhamra Publishing
Representative: Shafiq Naz
Booth 8 -
Exhibitor: South Asia Book Award
Representative:
Booth 9 -
Exhibitor: UW-Madison Language Program Office, American Institute of Pakistan Studies
Representative: Laura Hammond
Booth 10 -
Exhibitor: The Scholar's Choice
Representative: Mary Lynn Howe
Booth 11 - New Books Party (not available)
Publisher:

Representative: