This year's conference will host two Film Screenings where conference attendees can choose from a curated selection of South Asian films and documentaries.
---
The 50th Annual Conference on South Asia will be held in-person. We regret that films will only be screened in-person as part of this year's conference. We invite all interested filmmakers to submit their films for the 51st Annual Conference in 2023.
This is an accordion element with a series of buttons that open and close related content panels.
Thursday, October 20
Time 3:45 – 5:30 PM
A Night of Knowing Nothing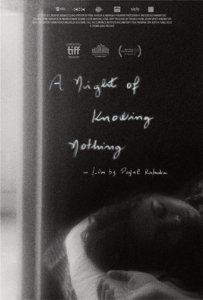 In her debut film, Payal Kapadia deftly merges reality with fiction, weaving together archival footage with student protest videos to tell the story of L, a student at the Film and Television Institute of India, writing to her estranged lover while he is away. Gradually we're immersed in the drastic changes taking place at the school and in the lives of young people across the country. A Night of Knowing Nothing is a vital tapestry of the personal and the political, an essential document of contemporary India and a nostalgic look at youth fighting the injustice of their time.
Payal Kapadia is a Mumbai-based filmmaker and artist. She studies Film Direction at the Film & Television Insitute of India. Her short films Afternoon Clouds and And What is the Summer Saying premiered respectively at the Cinéfondation and the Berlinale. She is a Berlinale Talents alumna and participated in 2019 at the Cinéfondation—Résidence du Festival de Cannes. Her first feature length film, A Night of Knowing Nothing, was selected for Director's Fortnight, Cannes 2021, where it won the Golden Eye Prize for Best Documentary. Her next project, All We Imagine As Light, which received support from CICLIC, Hubert Bals Fund & PJLF Arts Fund, is currently in development
Friday, October 21
1:45 – 3:30 PM
Postcards from Tora Bora
Q&A with the Director to follow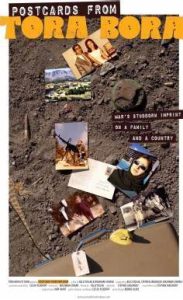 Postcards from Tora Bora (2007) chronicles Wazhmah Osman's return to Afghanistan in the early post-9/11 years of nation-building in Afghanistan when throngs of western development workers and over a trillion dollars in aid poured into the country. With co-director Kelly Dolak, she wanders the streets of Kabul pointing to the rebuilding amidst the ruins and speaking to Afghans about the past and present. This period marked a time of hope and rebuilding, when activism, media, and human rights flourished. How did we go from that to the US Withdrawal and Taliban takeover?
Wazhmah Osman is an Afghan-American anthropologist and filmmaker who serves as Associate Professor in Media Studies and Production at Temple University. She is the author Television and the Afghan Culture Wars: Brought to You by Foreigners, Warlords, and Activists (University of Illinois Press, 2020). She is also the co-director of Postcards from Tora Bora (Documentary Educational Resources, 2007) and the co-author of the forthcoming Afghanistan: A Very Short Introduction (Oxford University, forthcoming). She has appeared as a commentator on Democracy Now, NPR, and Al Jazeera and works with community and activist groups.
Saturday, October 22
5:45 – 7:30 PM
Naach Bhikhari Naach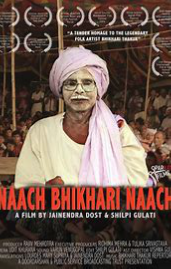 Naach is a form of traditional folk theatre from Bihar, India. In this tradition, male artists often crossdress as women on stage and are referred to as 'laundas'. The most legendary name in this tradition is Bhikhari Thakur's— an actor, playwright, and a social reformer popularly known as the 'Shakespeare of Bhojpuri.' The film follows the last four Naach performers to have worked with him and creates a visual archive of their performance tradition. As they share their plays, songs and a lifetime of memories, they immerse us into the world of folk theatre where we begin to see a glimpse of budhau– the old man, himself.
Shilpi Gulati is a Delhi based filmmaker whose body of work largely engages with gender, identity and oral narratives of regional communities in India. Her films Qissa-e Parsi and Taala te Kunjee have won National Awards. Shilpi is also an actor and workshop facilitator with Pandies' Theatre Group that works on creating theatre with women and young adults.
Jainendra Kumar Dost's work examines the social and political realities of Launda Nach and Bhikhari Thakur's folk theatre in Bihar. His theoretical inquiry closely ties into his experience as a theatre practitioner over two decades of experience. Jainendra is also the Director of Bhikhari Thakur Repertory Training and Research Centre, which work towards the revival of folk theatre in Bihar.